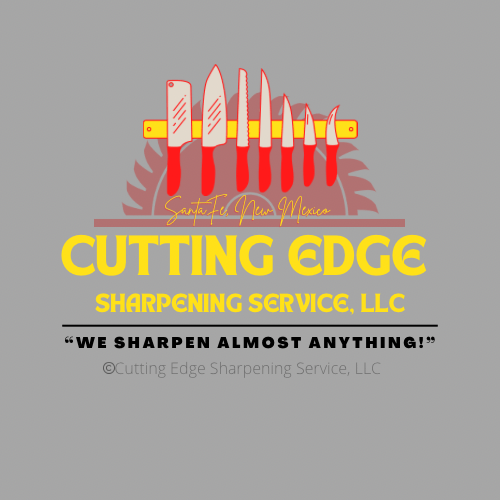 We Sharpen Almost Anything!
At Cutting Edge Sharpening Services, our team of professional & master sharpeners have the skills, experience, and knowledge to sharpen just about anything!
Bring your items to us, or come to one of our public events. Below are the times, dates & locations where we sharpen items for the general public – all customers are served on a first-come, first-served basis.
Whether orders are dropped off at the store or dropped off in person, all orders are sharpened on site and before we leave. We look forward to seeing you!
Jo Ann's Fabrics and Crafts calendar
We offer a number of quality sharpening services for a variety of different items!
Here's what they have to say about us...
"Mike is the BEST and he keeps me in the finest sharpening that there is. My good reputation would not be where it is without my tools being kept in the top shape that Mike keeps them in."

"As a professional chef for 34 years, I have always been reticent to have my knives sharpened by anyone else….Most knife sharpeners shorten the lifespan of expensive knives by over-grinding, thereby rendering the knives useless in a couple of years. Not Mike! His delicate touch yields super-sharp results, with respect for the quality and longevity of my professional tools. I highly recommend his work."

"Mike is a reliable, honest individual who strives to provide impeccable service. He adapts to our business needs and is readily available to perform extra sharpening services upon request. As an added bonus, he is always cheerful, and his smiling face is welcome in our kitchen. I highly recommend Cutting Edge Sharpening Services to anyone."

"Honest and reliable. Cutting Edge tool sharpening service has demonstrated these qualities repeatedly as they work with us. Cutting Edge has picked up tools at our yard, and returned them all correctly sharpened. It is great working with a company we can count on."
- Katherine O'Brien Principal & Landscape Architect

"A consistent, dependable, community-minded business. Cutting Edge shows up every month, on time and leaves our commercial kitchen with well-sharpened knives ready to prepare another 8,000 meals! Michael is a nice guy, to boot. What more could you want?"
- Tony McCarty Executive Director

"In almost forty years in the restaurant business as a chef and an owner, your sharpening service was the first one to ever give me the type of edge I wanted on a knife. I can not recommend your service highly enough."
Scroll through our reviews to view more